I am unable to Connect to WebConsole after enrolling for 7 Day Free Trial option .
I received the Lab Credentials after enrolling but after using the credentails , i am getting Incorrect Login Issue .
PFA Screenshot .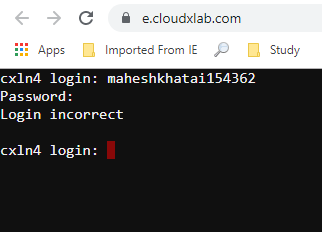 Link --> https://e.cloudxlab.com/
username --> maheshkhatai154362
Please suggest .
I tried reaching reachus@cloudxlabs.com for support , but they suggested me to post question in Forum .
Let me know , as the 7 - Day Trial will be over in this Login Error only …